---

FREE Placement Resources

Need a listing? When you know that it's time for your loved one to receive more care in a community but don't know where to go, let us help you find the next-best home. We'll create a customized Community Finder with living options to meet your needs and budget and provide you with educational guidance, and advocacy support. Let us help you find where your next steps will lead.

Family ​Consultation

Wondering where to begin?

​Starting with an in-depth

Family Consultation

is the key to navigating a peaceful path through the maze of all things senior. We work with all key members to put a plan of action into place with advance planning support that includes a mobile device app. Let our team of experienced family care-partners guide you on this journey; there is strength in numbers!

---

---

Our Placement Process

Why is Next Step different from other agencies?

Our process is thorough and personal. Based on our Needs Assessment and Intake Form, we vet out the communities that we discern will best fit your loved ones personality, their care needs and the personality of the care-partner family (that is you). Our vetting process includes:

Pre-screening each community by verifying references
Verifying state licensing status
Maintaining relationships with our care providers

Educating you regarding all things senior is our top priority. We will tour with you and train you on how to make the best decision possible in the midst of this life transition regardless of the time frame (whether it be a placement needed in a day, a month, or a year). With the options we provide, you will have confidence when it's time to make a choice. Our services are different from other referral agencies.

For us this is not just business; this is personal.

We are a cut above the rest because we work to support your loved one and YOU, the family caregiver(s) in this possibly new role. We are the company with heart ♥
F.I.T. Training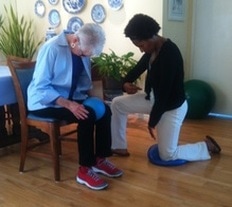 Fear of Falling? ​
We work with seniors to support their ability to feel safe and to prolong their sense of independence at home and in unfamiliar environments. Each workout is designed to:
increase and sustain functional strength
practice fall prevention​ & mobility training
enhance balance & stability
​improve circulation & oxygen levels
rehearse strategies of common-place activities that are no longer common-place
​​
Our senior specialized trainers create individualized programming that progresses our clients towards achieving their movement goals. Each workout is filled w/camaraderie, inspiration and challenge that brings out the fortitude and spirit of each client.
​
​
Contact us at
info@nextstepsco.com
, or
949-573-8504
to get more information or to set up a fitness assessment and get started with your personalized F.I.T. program.
---
---
Advance Planning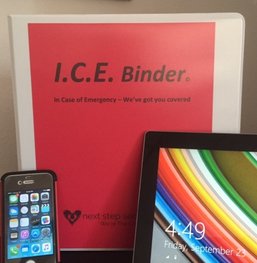 Are you prepared?
Our
I.C.E. Binder and mobile app
contain all the information one needs to be prepared and best support your family in a future event or circumstance .... because Life Happens.
​Join us for a workshop to guide you through the completion of your binder. Call us for event details or to invite us to host a workshop in your area.
---
Join the Conversation
Like Us on Facebook, Follow us on Twitter, Subscribe to our Blog "Stepping Stones"